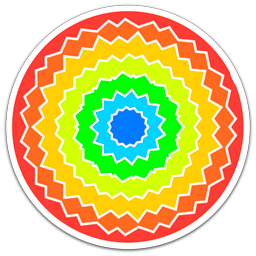 Unlimited Colouring Art
An unlimited coloring app for Mac
Abstract Art Generator and Colouring App
A uniquely creative coloring app made for Mac, Unlimited Coloring Art is like a coloring book with an infinite number of pages thanks to the integrated art generator (available with a one time in app purchase) which creates images from geometric mandala patterns to classical De Stijl artworks you can paint in the app.
The perfect anti stress hobby for relaxation, painting these classical and modern abstract pictures is fun for adults and kids alike and brings out the artist in all of us. Templates are stored separately from modified images so you can color and recolor each template as many times as you like.
Whether you prefer to print out your coloring pages on sheets and draw your designs by hand and sketch out additions or hone your skills as a digital designer and color palette tastemaker, this app is perfect for inspiring creativity with greater freedom than paint by numbers games, it's the perfect way to color in.
Users can find documentation on how to use Unlimited Coloring Art here