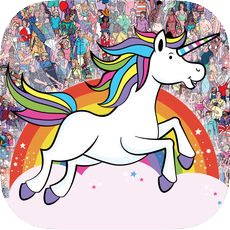 Where's the Unicorn?
A magical search and find app for iPhone and iPad
Follow a colourful blessing of globetrotting unicorns as they gallop around the world on an incredible whistle-stop tour.
From a star-studded film premiere and a flamboyant festival, to a wild safari adventure and a beautiful tropical beach, there are 20 intricately illustrated scenes to search, and seven sensational unicorns to spot in every location.
This ultimate search app challenges you to find 7 friendly unicorns among each colourful and vibrant scene in their adventures. Follow the unicorns across 20 exciting levels.
Take your search skills to the extreme - once you've found all seven unicorns, you'll be given a checklist of ten 'star find' hidden items to spot.
Based on the best-selling 'Where's the Unicorn?' series, by Michael O'Mara Books.